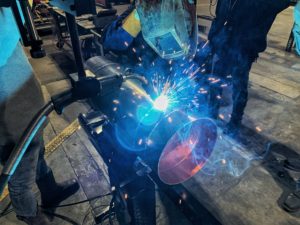 Dedication to growth and innovation has been a goal at ArcBoss since day one. It has been our mission to provide the best option in semi-automatic welding. Commitment to being the best has made ArcBoss what it is today. Therefore, providing customers with exactly what they need is something we will always try to do.
Top Hand: The Best Option for Semi-Automatic Welding
In an effort to produce the most useful product we can, a few additions have been made to the ArcBoss Top Hand. First, we moved the location of the main post on the base. By moving the main post forward, we maximized the horizontal reach of the unit. Next, we added a zero-gravity up and down adjustment. Now it is much easier to move the unit up and down the main post. Also, we have changed the size of the wheel castings. This makes it easier to move the unit around. Because of these few added benefits, the ArcBoss Top Hand is more useable than ever.
ArcBoss Custom
Because of the specific needs that different customers have, ArcBoss will be providing custom units with the features that are specific YOUR needs. Now you will be able to pick and choose the things you need. Because we want to meet your need specifically, we want to give you the power to choose your product.
As well as custom units, we will manufacture custom pipe rolls that will work perfectly with other ArcBoss products. ArcBoss products were engineered to work together. So they will do their job in the most efficient way possible. This will make the user's job that much easier. You will no longer have to rely on other products to accomplish your goals. We want to help you implement semi-automatic welding in a way that can help you accomplish more with the time you spend at work.